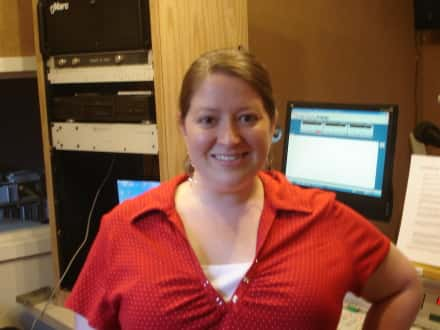 Name: Amber LaGess
Air Shift: 7 pm – Midnight (Saturday) and 11am-3pm (Sunday)
Song that best describes you: Dancing Queen by Abba
Favorite Artists: I love the artists we play on WSBS plus Aerosmith, Black Eyed Peas, Styx, Queen, Dave Matthews Band, Dixie Chicks, No Doubt, Stevie Wonder and everything 80's • the good, the bad and the worst!
Favorite Movies: Ace Ventura Pet Detective, American Pie, The Breakfast Club, Bridget Jones's Diary, The Goodbye Girl, Monsters Inc., Rent, Scream
Favorite Website: I don't spend much time online if I'm not at work or checking e-mail, but I could spend hours on YouTube.com.
Favorite Food: There's no way I can narrow it down to one!
What do you like most about the Berkshires? My family is from the Berkshires and I love being able to visit them regularly. I've always lived in this area and I just never grow tired of the view.
Describe a picture-perfect weekend: Enjoying brunch out with my sweetie, taking a drive, spending time outside, then enjoying a nice dinner and catching a movie or a show one day and having no plans or obligations for the second day and just enjoying it unfold.
Email Address: fun@wsbs.com